2022 Cadillac CT4-V Blackwing in Saskatoon, SK

2022 Cadillac CT4-V Blackwing Overview
Engine Specifications, Performance, & Safety Features
The new Cadillac CT4-V Blackwing is going to make its presence known. As a true performance sedan, it offers plenty of excitement when you're behind the wheel. It runs on a 472-horsepower twin-turbo V6 that comes with 445 lb-ft of torque, so there's no reason to worry about having enough power. The top speed has been clocked at 304 kilometres per hour, and this sporty sedan can accelerate to the 96-km/h speed in only 3.8 seconds. This special version of the CT4-V can use a Tremec six-speed manual transmission or a ten-speed automatic transmission. If you choose the automatic transmission, shifting will be smooth and responsive, and if you opt for the manual, buckle up and get ready for a spirited ride. On top of having this capable engine, the Blackwing gets to have Brembo high-performance brakes and a Magnetic Ride Control adaptive suspension. Keeping you safe are several driver-assist technologies. This car can watch out for potential issues and alert you to these concerning situations. It doesn't just stop there, though; it can independently apply pressure to the brakes and help you correct steering if it seems like you're about to be in a dangerous situation.
2022 Cadillac CT4-V Blackwing Exterior Style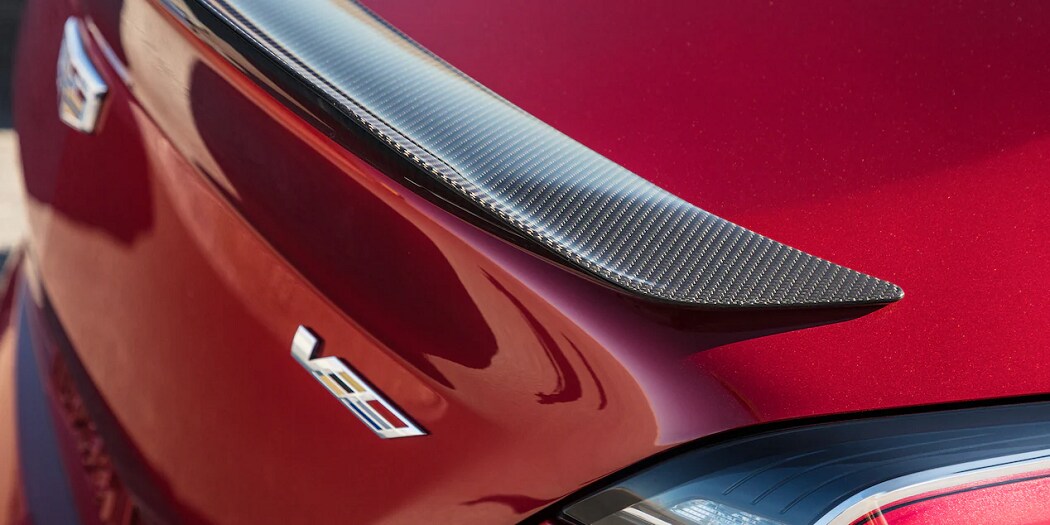 2022 Cadillac CT4-V Blackwing Interior Style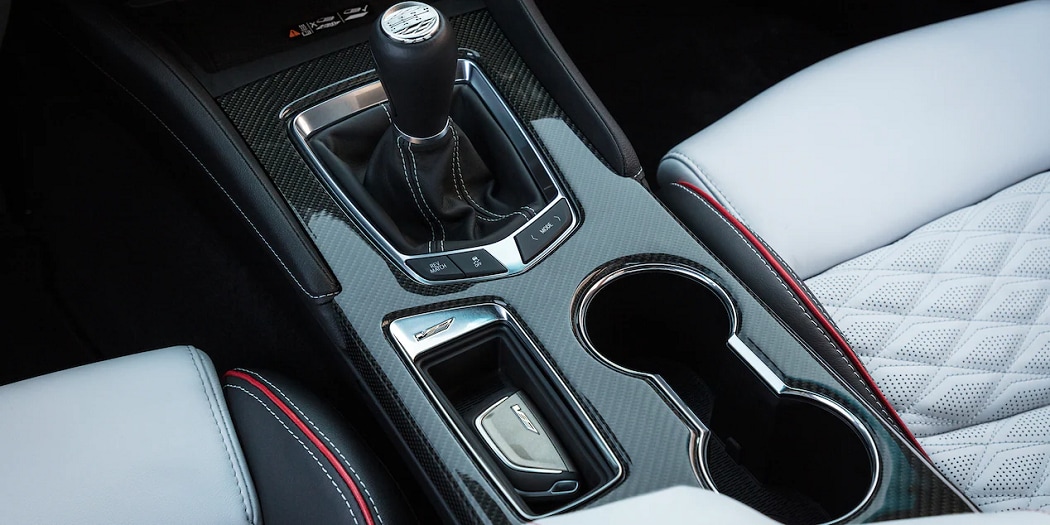 Interior & Exterior Features
A racing aesthetic is present both inside the cabin and on the exterior. This car rides on 18-inch wheels that could have a dark android, satin graphite, or tech bronze finish. Take advantage of the available black or carbon fibre accents to make this Cadillac stand out even more. A full set of LED lights are standard. You'll find them in the headlamps, tail lamps, front cornering lamps, and front turn signals. The standard rear spoiler adds another point of visual interest. In the cabin, the premium carpeted floor mats have the V-Series logo prominently featured. Leather seats are available, and they can have mini-perforated custom quilted inserts. You have an option to get a suede headliner, sporty accents on the seats and door trim, and torch red seat belts that will add a nice pop of colour. You'll appreciate having heated front seats and a leather-wrapped heated steering wheel on chilly days. It's nice, too, that the rearview mirror has an auto-dimming function to reduce glare. If you'd like to turn up the luxury, go for a model with ventilated front seats, remote start, and a high-performance steering wheel.
Technology Features
The technology in the CT4-V Blackwing helps you feel like you're in a race car. There's a 12-inch instrument cluster that lets you keep track of vehicle diagnostics, and the available Performance Data Recorder allows you to record and analyze various aspects of your driving. Have you ever wanted to know how fast you can make it around each lap? You can easily do so with this feature. Beyond these interesting elements, there are also many convenient components that you'll use daily. Wireless charging is standard, and so is wireless smartphone connectivity. If you're someone who prefers to always stay connected to your network, you'll be happy to hear that the Blackwing comes with a Wi-Fi hotspot. There's an 8-inch touchscreen, multiple USB ports, voice recognition, and integrated navigation. HD Radio and SiriusXM are other standard features that can do a good job of keeping you and your passengers entertained. The sound system on this Blackwing model is quite impressive, coming with 15 speakers.
Contact Us
Contact us for more information about the 2022 Cadillac CT4-V Blackwing. You'll have a lot of fun behind the wheel of one of these cars. If you'd like, reach out to set up a test drive. We'd also like our local customers to know that scheduling a service appointment with us is easy. We have flexible appointment availability and will work hard so that you can get the most out of your Cadillac.
2022 Cadillac CT4-V Blackwing 
Make an Inquiry