2022 Cadillac CT5-V Blackwing in Saskatoon, SK

2022 Cadillac CT5-V Blackwing Overview
If you are in the market for a new car, the 2022 Cadillac CT5-V Blackwing is an exceptional choice. At a glance, performance is one of the top benefits of this track-ready Cadillac. The CT5-V Blackwing uses a supercharged engine for power, accompanied by a manual or an automatic transmission. The Blacking reaches up to 668 horsepower for an exhilarating ride. In addition to its sheer power, the Blackwing also offers a well-rounded package of amenities that includes a luxurious cabin and impressive style.
Interior Features & Styling
Inside and out, the Cadillac CT5-V Blackwing has some of its class's most distinctive styling designs. The five-seat luxury sedan may drive like a race car on the track, but it has a driver-oriented upscale cabin that puts all the conveniences and technology you need at your fingertips. The interior has a cockpit-style design that combines premium luxury elements with a performance-oriented build. Carbon-fibre accents are designed to shed excess weight wherever possible, and the Cadillac has sporty, ergonomic seats for comfort and performance. Heated seats are standard on the Blackwing, and it also comes with ventilated and massaging seats. If you want a truly luxurious driving experience, you can go for the available seats made of semi-aniline leather. Along with the seats, other highlights of the Cadillac's interior include suede microfibre accents on the door trims, seats, steering wheel and headliner. The seat belts are made out of a Torch Red fabric as an upgrade for a striking look and an even more captivating design.
2022 Cadillac CT5-V Blackwing Exterior Style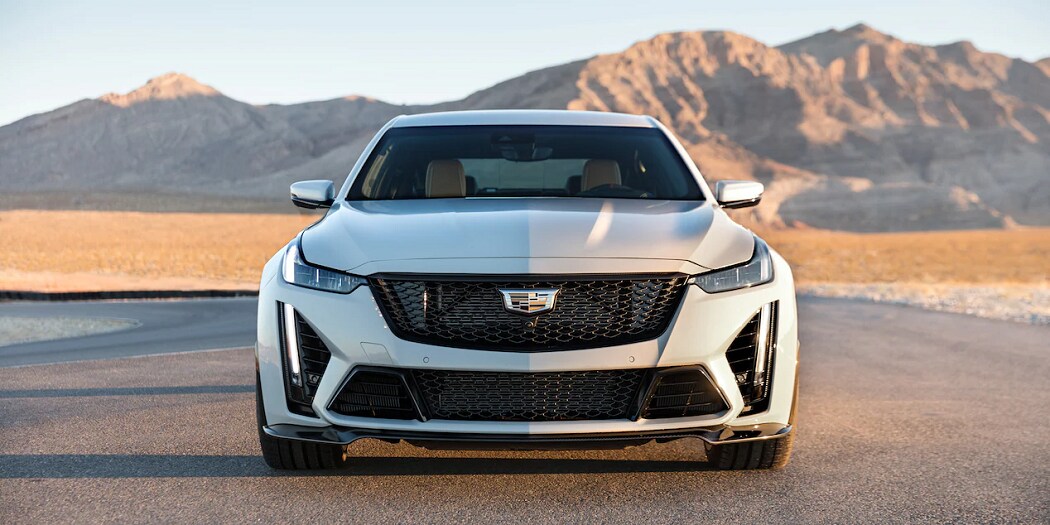 2022 Cadillac CT5-V Blackwing Interior Style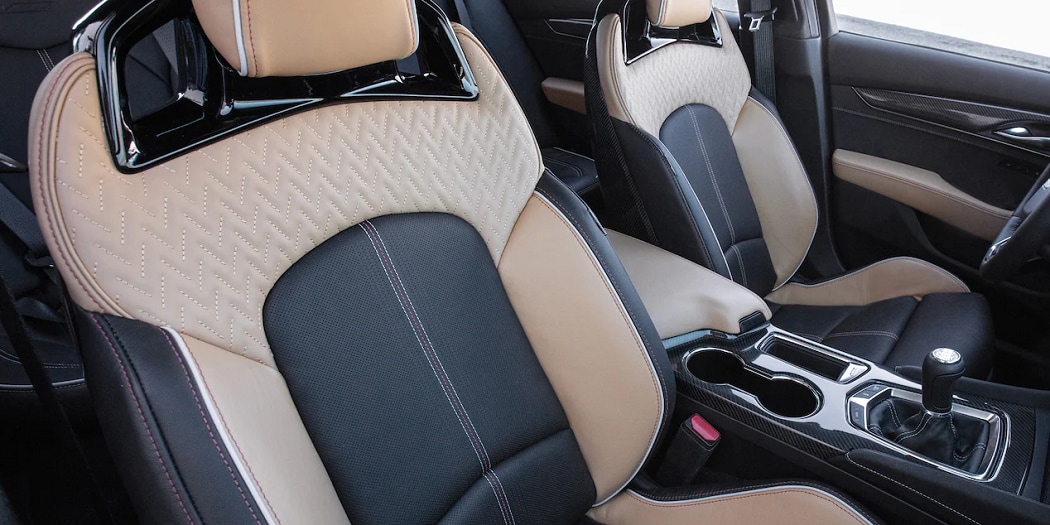 Exterior Features & Styling
On the outside, the Cadillac has a contemporary design that is both functional and aesthetically pleasing. The Cadillac CT5-V Blackwing has a bold grille on the front end and an overall sleek profile. The Blackwing also has an aerodynamic profile that enhances its sporty nature without detracting from its luxurious looks. A rear spoiler is a notable exterior feature on the Cadillac's back end, and it also has a refined mesh grille designed to improve airflow. Aluminum wheels pair effortlessly with high-performance tires to maximize the Cadillac's performance capabilities. Two carbon fibre packages are also available to give your Cadillac a more personalized appearance.
Engine & Performance
Under the hood of the Cadillac CT5-V Blackwing is a supercharged 6.2-litre engine with eight cylinders. The engine is handcrafted for Cadillac and built exclusively for the Blackwing. The Blackwing offers a powerful driving experience whether you're on track or the highway, with the ability to reach 96km/h in 3.4 seconds. The Cadillac's engine produces 668 horsepower, and it has a six-speed manual transmission, while an automatic is also an option. Magnetic ride control enhances the Cadillac's ride and gives it superior handling and control. A high-performance steering wheel is another notable feature of the Cadillac's performance amenities. Large brakes and an adaptive suspension system complete the list of features you will get with the Blackwing.
Technology Features
For technology, the Cadillac CT5-V Blackwing has a large 12-inch diagonal HD screen housed in a user-friendly instrument cluster. A head-up display is available to help you avoid distractions while getting all the directions and safety information you need. A premium AKG sound system is another highlight of the Cadillac.
Contact Us
To learn more about the 2022 Cadillac CT5-V Blackwing and all that it offers, contact us today. Our full-service dealership can provide all the details and information you want on the Blackwing, including pointing out its top features and pricing information. As a dealership committed to customer service, we can help you with all your car's needs. Whether you want to browse our new Cadillac inventory, schedule a service appointment, get financing assistance or more, we're here to meet your comprehensive vehicle needs.
2022 Cadillac CT5-V Blackwing 
Make an Inquiry
* Indicates a required field